The Willow Tea Rooms in Glasgow is a great example of Charles Rennie Mackintosh's unique style.
Earlier on in his career in 1896, Mackintosh was to meet a woman who was to exert an enormous influence on his professional life.
She was known as Miss Catherine (Kate) Cranston,  a local Glasgow businesswoman with a firm belief in temperance. She came up with the idea for a series of 'art tearooms'.
She approached Mackintosh to assist the architect and designer George Walton on her new premises in Glasgow town centre – Buchanan Street.
The success of the tearoom forged a relationship between Cranston and Mackintosh which was to last twenty years.
Her constant support allowed him to create some of his most memorable interiors for her.
Between 1897 and 1917 he designed or restyled rooms in all four of her Glasgow tearoom establishments.
Mackintosh's first involvement was in the new Buchanan Street Tearooms.
His input here was limited to wall murals with the interiors and furnishings designed by George Walton.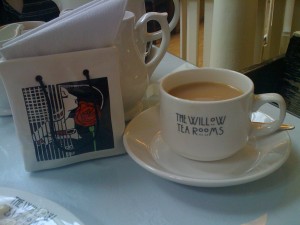 He started in Ingram Street in 1900 and created the White Dining Room.
The Willow Tea Rooms opened it's door later.
Mackintosh returned to Ingram Street on several occasions and created the famous Chinese Room.
In 1903 he moved to the Willow Tea Rooms in Sauchiehall Street.
For the first time, he was given the opportunity to design all the interior fittings and also the external layout of the building.
Go to Credits page to visit the Willow Tea Rooms website.
. . . . . . . . . . . . . . . . . . . . . . . . . . . . . . . . . . . . .
Charles Rennie Mackintosh Projects
House for an Art Lover – Glasgow
Queen's Cross Church – Glasgow
Glasgow School of Art – Glasgow
Don't forget to…